Filtering by Tag: Drums
how to get hold of your copy of the new FU-CHING-GIDO album!
Read More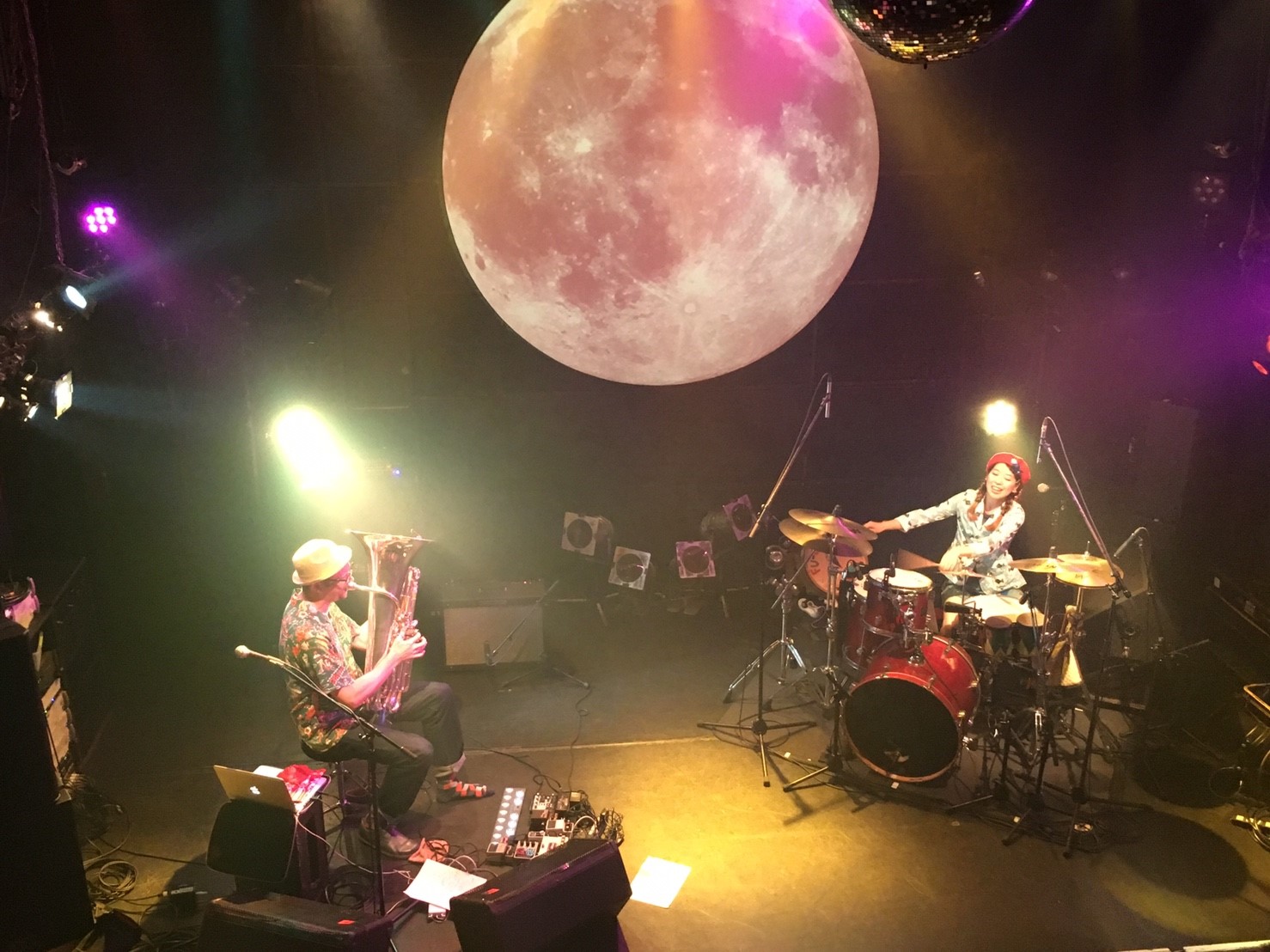 SET LIST
1st SET
Hana Uta (Fu-ching)
In A Persian Market (A.W.Ketelbey)
Jam/Sandansko Horo (Traditional)
La Critica (J.Hernandez)
Suisei/Crow & Alice (G.Juckes)
2nd SET
Young And Finnish (G.Juckes)
Mebuki (Fu-ching)
Universal Earthlings (G.Juckes)
Kaze No Kaori (Fu-ching)
Chili Klaus (G.Juckes arr.Fu-ching)
Odko & Ochoo (G.Juckes)
She's So Heavy (Lennon, McCartney)
Water Shed (G.Juckes)
ENCORE
Fire (J.Hendrix)
August 6th, was swelteringly hot, dazzlingly sunny and relentlessly humid. A typical mid-summer's day in Tokyo's Aoyama ward, as a crowd of fans and followers descended down the stairway into the dark and cool Moon Romantic to join the party, celebrating the release of FU-CHING-GIDO's new album "Earthlings".
It was certainly a fateful choice of date. It is perfectly fitting that the release of "Earthlings", an album celebrating the universality of Earthlings, should fall on August 6th, the commemoration of one our most terrible failures. And so very happily we came together to celebrate UNIVERSAL EARTHLINGS!
The amazing staging at Moon Romantic fitted the dramatic aspects of the instrumental music really well, a huge full moon hovering above the band, with the performer's silhouettes sometimes projected onto the back drop. The creative and imaginative lighting really added to the performance, and helped transport band and audience deeper into the music.
Following a projection of the band's new Music Video, "Young And Finnish", FU-CHING-GIDO's first set was comprised mainly of songs from their debut album, starting with Fu-ching's original, "Hana Uta" and continuing with their epic, romantic, heavy and absurd rendition of "In a Persian Market". A deep Ethiopian-influenced groove introduced the heavy traditional Bulgarian Traditional song, "Sandansko Horo", with the final 22/8 groove really exploding! The bright latin feel of Cortijo's "La Critica" led to a powerful drum solo from Fu-ching, pushed on by the enthusiastic shouts and screams from the audience!
A typically rambling and messy MC from the band (something which has become a bit of an unintentional trademark of our live performances!) promised a second set free from interruption, as we would perform the album "Earthlings" in its' entirety. And to finish the first set, the band premiered a new song, or songs, as it was in fact a medley. "Suisei/Crow & Alice" written by Gideon Juckes, which visited funky ancient Persian grooves (with some serious Q-Tron pedal on the tuba), Bulgarian wedding band music and ended with some kind of 70's Rock anthem!
The first set was followed by a Very Special Guest Celebrity DJ Set from International Chindon Diva Kogure Miwazow, who regaled the crowd with a fantastic set of dramatic and cool grooves and songs from around the world, from Nino Rota deep cuts, to classic Klezmer, to Henry Threadgill, while the audience got into it, refreshed themselves, and mixed nicely.
The lights dropped as the 100 year-old recording of Finnish singers ushered in the opening strains of "Young and Finnish", and so began the first full performance of "Earthlings". The fantastic lighting and wide contrasts of the music gave the band an audience an uninterrupted opportunity to get deeper into the music than ever before, and it was quite a journey! As the band played the final tune "Water Shed", they played acoustically, Fu-ching playing her one-woman-band sushi tub percussion, both walking through the audience, connecting with everybody, before disappearing through the entrance door, to appear again for their final thanks and encore, Jimi Hendrix's distortion filled "Fire".
We'd like to thank the audience so much for helping us celebrate the launch of "Earthlings". We really enjoyed this live format, and will definitely be doing more in a similar vein in the near future. The full International album release is this Sunday, August 13th, and we'll be letting you know in detail the many ways you can get hold of, download and stream the album, wherever you are!
AND DON'T FORGET, FU-CHING-GIDO's next show is at Katte-ni WOODSTOOK 2017! SEE YOU THERE!